OTHERWISE KNOWN AS SHEILA THE GREAT Opens the 2012-2013 WST for Kids Season!
July 22, 2012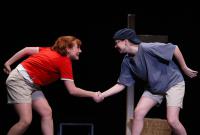 Cast of Otherwise Known as Sheila the Great
Otherwise Known as Sheila the Great kicks off the 2012-2013 Walnut Street Theatre for Kids Season at the Walnut on Saturday, September 22 with performances at
10:30 am, 1:00 pm and 3:30 pm.
Being a 10 year-old kid is kind of a pain. Having an older sister is really a pain. Being afraid of everything is... well, just plain painful! Dogs? Swimming? Spiders? Yikes! Sheila Tubman, otherwise known as Sheila the Great, learns how to face her fears in this super-funny and poignant musical. Audiences will discover the wonderful kid inside!
Award-winning author Judy Blume has written many popular children's novels, including Otherwise Known as Sheila the Great, which have sold over 80 million copies and been translated into 31 languages. Children and adults will fall in love with Blume's extremely likable heroine Sheila Tubman and her friends as she learns that her obstacles are all part of growing up.
The Walnut Street Theatre for Kids Series is celebrated for bringing families together through reading and the arts. Each season encourages children to first read the books with a grown up friend, then watch the stories come to life on-stage. The Walnut takes pride in bridging the communication gap between parents (and grandparents!) and their kids.
Otherwise Known as Sheila the Great is produced by ArtsPower. ArtsPower National Touring Theatre is one of America's preeminent producers of professional theatre for young and family audiences. Its 26 professional touring productions have been seen by more than 11 million people in 47 states - from Alaska to Florida - in some of the nation's top cultural centers, including The Kennedy Center in Washington, D.C. and Lincoln Center in New York.
Tickets for Otherwise Known as Sheila the Great are only $10-$16. This one hour musical is recommended for audiences grades K-6.