An American Classic opens on the Walnut Mainstage: Of Mice and Men
January 15, 2007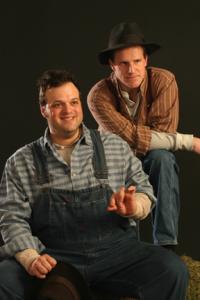 Scott Greer (Lennie) and Tony Lawton (George) in Of Mice and Men (photo by Mark Garvin).
The Walnut Street Theatre continues its 198th season with John Steinbeck's Of Mice and Men. Experience the deeply affecting drama of this all-new production of the classic American story. Of Mice and Men begins on January 16, opens January 24 and closes March 4. Tickets are $10-$57.50 and are now available at 215-574-3550 or 215-336-1234.
Of Mice and Men is the story of two migrant workers making their way through California during the Great Depression. Scraping a living from whatever farm work they can find, the pair has a unique relationship. Lennie is simple-minded, clinging to a childlike dream of tending rabbits in a place of his own. George shepherds Lennie from job to job, often exasperated by his burden and yet equally enthralled by the dream of a place he and Lennie can call their own. George refuses to abandon Lennie and uses his mind for both men, but Lennie's frightening physical strength is beyond rational control. Just as their dreams begin to materialize, devastating conflicts build. The result is a timeless story that is stark and tender, innocent and tragic.
John Steinbeck is one of the best known and most widely read American writers of the 20th century. A winner of the Nobel Prize for Literature in 1962, he is best known for Of Mice and Men (1937) and his Pulitzer Prize-winning novel The Grapes of Wrath (1940), both of which examine the lives of the working class and the migrant worker during the Great Depression. Steinbeck situated struggling, disadvantaged people at the center of his stories. His characters and his stories drew on real historical conditions and events in the first half of the 20th century. Steinbeck himself adapted Of Mice and Men for the stage, where it has enjoyed successful runs on Broadway in 1937 and 1974 and has been performed the world over.
The Of Mice and Men cast includes several Walnut veterans in addition to some talented newcomers. Three-time Barrymore winner Scott Greer, who last appeared at the Walnut in Neil Simon's Brighton Beach trilogy, returns to portray Lennie. Anthony Lawton, whose original play The Foocy received three Barrymore nominations earlier this year, joins the cast as George. Bev Appleton (Candy) returns to the Walnut fresh from his run in Windy City. Playing the Boss is Paul Nolan, who was also seen in After-Play at the Walnut's Independence Studio on 3. Darren Michael Hengst makes his Walnut debut as the Boss's bitter, diminutive son, Curley. Joining them on the ranch is Dan Olmstead, who will play the sympathetic Slim. Dan has been seen in many Walnut productions, most recently last season's Finian's Rainbow. Lindsay Smiling returns to the Walnut to play Crooks after his turn in last season's Lobby Hero. Russ Widdall comes back to the Walnut to play Carlson, having also appeared here on the Studio 3 stage in last season's Natural History. Rounding out the cast are real-life husband and wife Ian Merrill Peakes and Karen Peakes, playing Whit and Curley's Wife. And last but not least, look for the Walnut's latest canine stars, Hobo and Rupert, who will each have a turn as Candy's dog.
At the helm of this production is Director Mark Clements. Mark was the Artistic Director of the UK's Derby Playhouse from 1992 to 2002, and is currently the Artistic Director at the New Players Theatre in London. Previous Walnut Directorial credits include Blood Money, The Rivals, Great Expectations and last season's The Thing About Men. A seasoned team of designers joins Mark in this endeavor. Todd Ivins revisits the Walnut as Set Designer, bringing with him a stark yet evocative presentation of 1930's California. Todd's previous Walnut designs include last season's The Thing About Men and Godspell. Shelley Hicklin, veteran of several Studio 3 shows, lends her talents to the mainstage as Lighting Designer. Sound Designer Ryk Lewis also joins the team, putting in a solid run at the Walnut this year, having designed the sound for both Windy City and 42nd Street. Colleen Grady, in her tenth season as Costume Designer for the Walnut, continues to extend her talents for Of Mice and Men.
Of Mice and Men
runs at the Walnut January 16 through March 4. This production is sponsored by Garfield Refining. Media Sponsors are B101 and NBC 10.