"The Impossible Dream" Continues! Additional Performance Added by Popular Demand!
September 14, 2007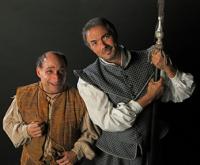 Jamie Torcellini and Paul Schoeffler. Photo by Mark Garvin
PHILADELPHIA, PA: Audiences at the Walnut have been on their feet every night, cheering the runaway hit that Man of La Mancha has become. This classic adventure of Don Quixote and his faithful squire Sancho has proven so popular, the Walnut has added an additional perfomance at 7PM on Sunday, October 21. With an additional performance, now there is one more chance to Dream the Impossible Dream! If you haven't seen it yet, don't miss your chance!
Based on the immortal works of Miguel de Cervantes, Man of La Mancha tells the fantastic tale of Don Quixote, a self-proclaimed knight-errant who sets out to protect the weak, uphold chivalry and right the wrongs in a cold and uncaring world. The world of Don Quixote is brought to life by Cervantes himself, having been harshly imprisoned during the Spanish Inquisition. Using only his fellow prisoners and a great amount of imagination, Cervantes tells the noble and romantic story of a man determined to win the heart of the woman he loves and do the right thing, no matter how difficult or costly.
Man of La Mancha was written by Dale Wasserman, who, after reading "The Adventures of Don Quixote," was intrigued not by the main character, but its author, Miguel De Cervantes. Despite living a life described by Wasserman as "a catalogue of catastrophe," Cervantes succeed in creating one of the world's most memorable stories. Wasserman created Man of La Mancha as a tribute to the spirit of Don Quixote's creator who so seamlessly intertwined the identities of writer and character.
Originally written as a teleplay for CBS, Wasserman re-wrote the show for Broadway after producer/director Albert Marre stepped in and suggested that the work become a musical. After collaborating with Mitch Leigh (music) and Joe Darion (lyrics), a Broadway classic was born. The show's most memorable song, "The Impossible Dream," has been recorded by dozens of artists including Andy Williams, Diana Ross, Luther Vandross, Elvis Presley and Frank Sinatra.
The original production (starring Richard Kiley as Quixote) played on Broadway from 1965 to 1971, totaling an astounding 2,328 performances. It was awarded five Tony Awards, including Best Musical. A film version followed in 1972 with Peter O'Toole as Quixote, James Coco as Sancho and Sophia Loren as Aldonza. Subsequent Broadway revivals include the 1992 production with Raul Julia as Quixote and Sheena Easton as Dulcinea, as well as the 2002 production with Brian Stokes Mitchell and Mary Elizabeth Mastrantonio in the same roles.
Guiding this tale of dreams and dreamers is Barrymore-Award winning director Bruce Lumpkin (Walnut credits include Cabaret, Evita, Grand Hotel, La Vie En Bleu, Godspell and Rodgers and Hammerstein's Carousel). Music and Vocal Director Edward Reichert (She Loves Me) joins him. Choreographer Michelle Gaudette returns as well. Michelle, a former Radio City Rockette, was recently honored with a Barrymore Award nomination for her masterful choreography for last season's Carousel. Some of Michelle's other Walnut credits include La Vie En Bleu and Evita.
The Man of La Mancha design team is creating a dark and foreboding vision of the Spanish Inquisition that will serve as a stark contrast to the bright message of hope contained in the production. Set Designer Todd Edward Ivins' intricate work has been seen at the Walnut previously with our 2006 production of Godspell and his Barrymore nominated set design for last season's Of Mice and Men. Lighting Designer Jack Jacobs previously illuminated West Side Story, Godspell and Rodgers and Hammerstein's Carousel. Costume Designer Colleen Grady, long-time Costume Shop Manager/Designer for the Walnut, returns for her 11th season. Colleen's previous credits include Evita, West Side Story, Godspell, Windy City, Carousel and La Cage Aux Folles (winning a Barrymore for Outstanding Costume Design). Sound Designer Ryk Lewis returns for a second season at the Walnut, having previously designed for Windy City and 42nd Street and Rodgers and Hammerstein's Carousel.
The cast of Man of La Mancha is an exceptionally strong and enormously talented ensemble of actors, most with strong ties to Broadway and the Walnut Street Theatre. Leading our mostly motley crew of prisoners is Paul Schoeffler in the title role of Cervantes/Don Quixote. Walnut patrons will remember Mr. Schoeffler as Walter Burns, the sneering and scheming editor from last season's opening production, Windy City. Paul has enjoyed a varied career on Broadway, appearing in such hits as Sweet Charity, Beauty and the Beast, Peter Pan and Victor/Victoria. Joining Paul's Don Quixote is Jamie Torcellini as Sancho Panza. Jamie has wowed Walnut audiences many times in the past, most recently in 2006's The Mystery of Irma Vep (many, many roles) and in 2005's Beauty and the Beast (Lumiere). Jamie was featured as the Barber in the 2002 Broadway revival of Man of La Mancha.
Returning to the Walnut as Aldonza, the object of Don Quixote's chivalrous affections, is Denise Whelan. Denise's powerful performances at the Walnut have ranged from the tragic (Molly Malloy in Windy City) to the comedic (Studio 3's Pump Boys and Dinettes) to a little bit of everything (last season's Side By Side By Sondheim).
The remaining cast members will be very familiar to Walnut audiences and fans of Philadelphia theatre alike; including Bev Appleton (The Walnut's Of Mice and Men); Jennifer Hallie (the Arden's Dinosaur: The Musical); Danielle Herbert (Carousel); Joshua Lamon (Godspell), Michael Philip O'Brien (Carousel, Finian's Rainbow); Katie O'Shaughnessey (Carousel, 42nd Street, Cats); Steve Pacek (11th Hour's Bomb-itty of Errors); Suzanne H. Smart (Society Hill Playhouse's Menopause -The Musical); Bill Van Horn (Carousel, Studio 3's The Dishwashers and The Fantasticks) and Bruce Winant (Rags, Camila and La Vie En Bleu).
Man of La Mancha runs at the Walnut now through October 21.