Peter Pan at the Walnut: Come to the Place Where Dreams are Born!
November 9, 2007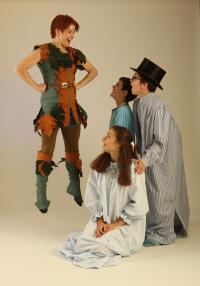 Cary Michele Miller, Conor O'Brien, Griffin Back and Kristen Paulicelli. Photo by Mark Garvin.
PHILADELPHIA, PA:The Walnut Street Theatre continues its historic 199th season with one of the most beloved Broadway Musicals of all time, PETER PAN. This all-new production of J.M. Barrie's classic tale, sure to delight both young and young at heart, will whisk audiences away to Neverland for the adventures of "the boy who wouldn't grow up." This enchanting production, sponsored by Citizens Bank, will have you thinking happy thoughts from November 6 - January 6.
PETER PAN tells the story of Wendy, John and Michael Darling, who one night find a mysterious boy in their room. The boy, named Peter Pan, lives in a magical far away place called Neverland. With a little help from the pixie Tinkerbell and a happy thought in their hearts, the Darlings fly away with Peter to join in a series of incredible adventures. In Neverland, they meet the orphaned Lost Boys, help rescue and befriend the beautiful Indian princess Tiger Lily and try to spoil the dastardly doings of the sinister Captain Hook. Will Peter and the Lost Boys finally defeat those dastardly pirates? Where could that ticking Crocodile be lurking? Will the Darling children want to return home after seeing the wonders of Neverland? The answers to all these questions will send you soaring towards the skies!
PETER PAN is based on the 1904 stage play of the same name, written by Sir James M. Barrie. The musical premiered on Broadway in 1954 with a cast that included Mary Martin as Peter and Cyril Richard as Hook. The production garnered three Tony Awards, including Best Actress in a Musical (Mary Martin) and Best Featured Actor in a Musical (Cyril Richard). Soon after it closed on Broadway, the show was remounted for television and performed in a historic, live color broadcast in 1955. Popular revivals starring Sandy Duncan in 1980 and Cathy Rigby in 1991 and 1998 proved that Peter Pan remains not only family tradition and a right of passage, but a vibrant and life-affirming piece of theatrical magic. With a wonderful score by Carolyn Leigh, Mark Charlap, Jule Styne, Betty Comden and Adolph Green, you will be singing along to such whimsical hits as "I Won't Grow Up," "Neverland," "I'm Flying" and "I've Got To Crow."
Appearing as the boy who never grew up, Cary Michele Miller brings Peter Pan to life. Cary, who was recently featured as Carrie Pipperidge in the Walnut's production of Rodgers and Hammerstein's Carousel, does battle with a Captain Hook very familiar to Walnut audiences: Paul Schoeffler. Paul is currently performing the role of Don Quixote in the Walnut's production of Man of La Mancha, and has donned the hook previously for two extended runs during the National Tour of Peter Pan starring Cathy Rigby. His Captain Hook was immortalized on the A&E Network's presentation of Peter Pan (also starring Cathy Rigby) onstage at the Miranda Theatre in 1997. The DVD of this performance has been a best-seller over the past decade.
The talented Ensemble of PETER PAN, playing everything from Londoners to Lost Boys to Pirates to Indians, include a number of folks very familiar to Walnut audiences. Joey Abramowicz, Jeffrey Coon, Nina Fluke, William Hartery, Colleen Hazlett, Danielle Herbert, Ryan Jackson, Ron Nahass, Katie O'Shaughnessey, Rodney Pallanck, Buddy Reeder, Peyton Royal, Lisa Rumbauskas and Peter Schmitz are featured throughout.
Looking to cast the roles of the Darling Children and the Lost Boys, The Walnut embarked on an extensive audition process looking for young talent. After seeing many different kids from far and wide, our cast of talented young actors is made up entirely of local children. The Darling children include Kristen Paulicelli (from Flemington, NJ) as Wendy and Griffin Back (Cherry Hill, NJ) as John. Double cast in the role of Michael Darling are Conor O'Brien (Bala Cynwyd, PA) and Dante Mignucci (Havertown, PA). Featured as Jane are Molly Hanes (Philadelphia) and Megan Rapuano (Narberth).
Our troupe of Lost Boys include Hasani Allen and Brandon O'Rourke (both from Philadelphia); Matt Bedenko (Media, PA); Joey Del Ferro (Avondale, PA); Isaiah Ellis (Cherry Hill, NJ); John Fisher and Kyle McClellan (both from Doylestown, PA); Sam Krivda (Perkasie, PA); Thomas McDonald (Wayne, PA) and Danny Rapuano (Narberth, PA). The Lost Boys will perform in two groups of five during the course of each week.
An important part of the show, just as integral as the music and actors themselves, is the aerial ballet and wirework taking place onstage. Our aerial magic will be handled by Flying By Foy, the same company that has been responsible for every major revival of Peter Pan over the years. Thanks to their years of expertise, Peter Pan, Wendy, John, Michael and a few others will fly this way and that, upstage, downstage and right over your heads!
Directing and Choreographing Peter Pan is Marc Robin. Marc is thrilled to be returning to the Walnut, after directing last season's opener, Windy City. He has staged over 200 productions across the country, including shows at the Steppenwolf Theatre, Chicago Shakespeare Theatre, Utah Shakespeare Festival and the Fulton Opera. His work has brought him an astonishing 40 Joseph Jefferson Award Nominations. He has won the award 14 times along with 11 After Dark Awards and 3 Ari "Zoni" Awards. Marc's inspiration for the overall look and feel of PETER PAN is based entirely on the imagination of children.
"The entire action springboards from what we see in the bedroom of the Darling children. Everything from the artwork on the walls to the toys on the floor hint at what we are about to
see in Neverland"