Frankly, My Dear...You've Never Seen Vivien Leigh Like This!
December 17, 2007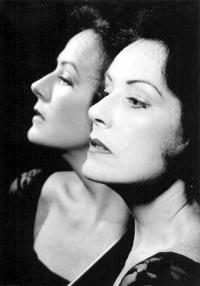 Janis Stevens' uncanny portrayal of Vivien Leigh has been acclaimed from coast to coast.
PHILADELPHIA, PA: The Walnut Street Theatre's 2007-2008 Independence Studio on 3 season continues with VIVIEN, a charming, humorous and heartfelt look at the life and times of Vivien Leigh, one of Hollywood's most glamorous and enigmatic figures. Featuring the award-winning performance of Janis Stevens, VIVIEN starts on January 15, opens on January 17 and closes on February 3.
VIVIEN tells the story of legendary and award-winning actress Vivien Leigh. It is 1967, and Ms. Leigh wanders onto a darkened London stage. She has been cast in the West-End premiere of Edward Albee's A Delicate Balance, and is present for her first read through. Finding the theatre empty, Ms. Leigh takes the audience along on a journey through her triumphs and struggles; her marriage to Laurence Olivier, her love/hate relationship with Hollywood and her determination to achieve greatness on the legitimate stage. Janis Stevens not only re-creates several of Ms. Leigh's great film roles (Blanche DuBois, Scarlett O'Hara, Mrs. Treadwell) but many of the stage roles she played throughout her 30 year career as one of the most renowned actresses of our time.
Having worked together for several seasons at Sierra Repertory Theatre in Sonora, CA, playwright Rick Foster and actress Janis Stevens started searching for subject matter that might allow them to create a one-person play together. At the suggestion of a friend, they started looking at the life and career of Vivien Leigh. Janis had played many of the same roles that Vivien had (Blanche DuBois, Lady Macbeth, Titania, Sabina, Cleopatra), and Rick was interested in exploring the complexities of Vivien's relationship with Laurence Olivier. The play premiered at Sierra Repertory as part of its 1997 season and it has been produced nationwide many times since, most recently at the Sacramento Theatre Company.
About the Playwright: Rick Foster
Rick Foster is an award-winning playwright whose plays, translations and adaptations have been produced across the nation. His one-woman play Love, Isadora received four productions in San Francisco, the final one at the Marines Memorial Theater. The Heroes of Xochiquipa received five nominations from the Bay Area Theater Critics Circle and an award for Outstanding Original Script. His translation/adaptation of Frank Wedekind's Spring Awakening has been produced professionally and at many colleges and universities from New York to Los Angeles.
About the Actress: Janis Stevens
Janis Stevens' early career was spent in the English-speaking theatres of Vienna, Austria. Recent roles include: Beatrice in Much Ado About Nothing, Cleopatra in Antony and Cleopatra, Amanda in Private Lives, Irene in Idiot's Delight (The Theatre at Monmouth), Mrs. Alving in Ghosts (Sierra Repertory), the Marquise de Merteuil in Les Liaisons Dangereuses, Flora in Humble Boy (Capital Stage in Sacramento), Hannah in Arcadia (Sacramento Theatre Co.) and the title role in Becoming Julia Morgan (Sacramento's California Stage), for which she won a 2006 "Elly Award" for Best Dramatic Actress. She received a Drama Desk nomination for "Outstanding Solo Performance" for the 2005 production of VIVIEN at the American Theatre of Actors in New York City. Her portrayal of Vivien Leigh has won numerous other awards, including the Dean Goodman Choice Award, The Upstage/Downstage Award and the Garland Award.
About the Design Team
Guiding this tour-de-force performance is acclaimed director Peter Sander. Mr. Sander has directed at the Lab Theatre in New York, the Cleveland Play House and at the Academy Festival Theatre in Lake Forest, IL where his production of Moonchildren received two Jefferson Award nominations for Best Direction and Best Production. He directed Ms. Stevens as VIVIEN in New York this past November. He is presently Professor of Theatre at Hofstra University. Peter is married to actress Mary Jane Wells, and his son Ben Sander is the star of the Brini Maxwell Show.
Behind the scenes, the Walnut welcomes back Set Designer Meghan Jones and Lighting Designer Shon Causer. Meghan's most recent design for the Walnut Street Theatre Independence Studio on 3 was Greater Tuna, and her designs have been a regular feature on the Lantern Theatre Company's stage (most recently Lonesome West and Master Harold and the Boys). Lighting Designer Shon Causer returns to Studio 3 after designing Greater Tuna this season, as well as Side by Side by Sondheim and The Mystery of Irma Vep for the Walnut last season. Costume Designer Gail Russell makes her first visit to the Walnut, having served as the designer for VIVIEN across the country, including recent productions in New York, California and Maine.