Join us for a author book signing for WALNUT STREET THEATRE!
April 27, 2008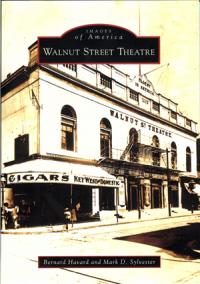 America's Oldest Theatre celebrates its history!
If you've been to the Walnut recently, you may have seen our new photo-history book, which covers 200 years of Philadelphia theatre history! Please join us at the Borders on Broad Street for a chance to talk with the authors about this fun-filled trip through the history of Theatre at the Walnut!
NEXT WEDNESDAY EVENING, JULY 16 at 7PM
Who: Walnut Street Theatre's Producing Artistic Director, Bernard Havard and Walnut Street Theatre's Managing Director, Mark D. Sylvester, Co-Authors of the new Arcadia Publication, Walnut Street Theatre
What: A Q & A/Book signing with the Authors of Walnut Street Theatre
When: Wednesday, July 16, 2008, 7PM
Where: Borders, Avenue of the Arts
1 South Broad Street, Philadelphia
Why: On the eve of its bicentennial, the Walnut Street Theatre takes time to reminisce about its past. As the oldest continually operating theatre in the English speaking world, the theatre is a National Historic Landmark and the official State Theatre of Pennsylvania.
Bernard Havard, WST's Producing Artistic Director, and Mark D. Sylvester, WST's Managing Director, have compiled this photographic history of the Walnut Street Theatre's dynamic past.
Highlights of Walnut Street Theatre include:
*Numerous previously unpublished and unseen vintage photographs from the Walnut Street Theatre archives and other public and private collections.
*Numerous celebrity images, including The Marx Brothers, Katherine Hepburn, Marlon Brando, Will Rogers, Jane Fonda, Robert Redford, and more.
*Includes shots of the theatre as a "tryout" to famous plays including A Raisin in the Sun, Mr. Roberts and many more.
Here is a review of the book, from the May 9th issue of the Philadelphia Bulletin (written by Bill Kent)
Philadelphia's Walnut Street Theatre is blowing its own horn in a large-format paperback photo history, Images of America: Walnut Street Theatre (Arcadia Publishing. 128 pages, illustrated. $19.99), but it has every right to do so.

Not only did Neil Simon's first full-length play, Come Blow Your Horn, premiere at 9th and Walnut Street in 1960, but in February 2009, the oldest, and arguably most successful continually operating theater in the English-speaking world (a few playhouses in London are older, but they were closed during World War II) will be 200 years old.

How does the Walnut, which was originally constructed in 1809 as a circus for trick riding, define success? Like a professional sports team: not in games won but in season ticket sales. The authors say that, "with over 56,000 subscribers annually," the Walnut is the "most subscribed theater company in the world."

That means that Walnut's main stage slate of mostly revived musicals, comedies and dramas, with the edgier, more intimate offerings inside its two, smaller black box theaters, are critic proof. In New York, a discouraging word from any of a handful of theater critics can doom a Broadway show to an early death. In Philadelphia, enough people know and respect the Walnut to trust the quality of its productions far in advance.

The authors could have tooted their horn even louder, but did not. What isn't mentioned in this book is that the Walnut was just about bankrupt in 1982. In that year, Bernard Havard came to the theater and turned it around. It remains to be told how a combination of broadly appealing productions, aggressive marketing, philanthropic contributions and corporate sponsors have made the Walnut's box office numbers the envy of regional theaters throughout the country.

Instead, this book offers glimpses of a building whose facade still resembles what the Marquis de Lafayette saw in 1812 when Thomas Jefferson took him to see the opening night performance of Sheridan's The Rivals, and many photos of the famous, curious or merely talented people who strutted and fretted their hour under the Walnut's roof.

First, some fun facts. We learn in the book that an imponderably huge statue of actor Edwin Forrest as Shakespeare's Coriolanus in the Walnut's lobby used to stand in Forrest's Philadelphia home (it came to the Walnut after it was donated to the Pennsylvania Historical Society); that a stagehand willed his skull to the theater to be used as a prop in performances of Hamlet's gravedigger scene; and that the curtain call, a ritual that seems as timeless as theater itself, originated at the Walnut in 1821, when cheering audiences demanded that the English Shakespearean actor Edmund Kean step in front of the curtain to take additional bows.

Now, the fun folks: Among the theater's owners have been the legendary Hollywood mogul Louis Mayer, the actor Edwin Booth (who closed the theater for a day of mourning after his brother, John Wilkes, assassinated President Lincoln) and the New York Schubert Organization, which booked touring shows featuring the Marx Brothers, Katharine Hepburn, Gregory Peck, Gloria Swanson, Lauren Bacall, George C. Scott, Helen Hayes, Mainline tennis bum Bill Tilden, Alfred Lunt and Lynn Fontanne and numerous Philadelphia Barrymores.

As a try-out theater for Broadway-bound productions, the Walnut's curtain rose on Rodgers and Hart's first musical, Peggy Ann, which flopped. Rodgers and Hart returned with A Connecticut Yankee, which ran over a year on Broadway.

The Walnut's audiences got the first glimpses of Arthur Miller's first, third and fifth plays. The Man Who Had All the Luck went on to New York, where it was infamously unlucky, closing after eight performances. Death of a Salesman, Mr. Miller's third, left its opening night audiences speechless, won the Tony and Pulitzer prizes and is considered one of the finest American dramas ever written. His fifth play, The Price, was revived earlier this year at the Walnut, starring Manayunk-born Robert Prosky, and his sons Andrew and John.

Other famous firsts: Henry Fonda wore his original Navy uniform when he starred at the Walnut in the world premiere of Mister Roberts. Sidney Poiter and Ruby Dee opened A Raisin in the Sun. Audrey Hepburn took a bow during the Walnut premiere of Gigi, as did Ethel Waters in A Member of the Wedding with a very young Julie Harris, who would later return to star in A Shot in the Dark, with Walter Matthau and a pre-"Star Trek" William Shatner. Jessica Tandy originated the role of Blanche DuBois in A Street Car Named Desire, with the then-unknown Marlon Brando, who was given the role of Stanley Kowalski when John Garfield turned it down.

Among other notables and curious characters who passed through is William Claude Dukenfield, who did his tramp juggling act as W.C. Fields at the Walnut after he was fired as a sales clerk from Wanamakers Department Store. The Police played a concert here, though not on the same bill with the Philadelphia Chamber Orchestra who, as the Concerto Soloists, played at the Walnut before moving to the Kimmel Center. Lily Tomlin starred as herself in her one woman show, Appearing Nightly, as did Buffalo Bill Cody in The Knight of the Plains, or, Buffalo Bill's Best Trail. In 1843, Charlotte Cushman, the Boston-born actress, became the Walnut's first female stage manager before acquiring fame for playing Romeo, in drag, opposite lesser known female Juliets.

Impresario P.T. Barnum escorted the diminutive Charles Stratton, an 11-year-old pretending to be the 18-year-old "General Tom Thumb" to the Walnut's gas-lit footlights, the first gas footlights installed in any American theater. George M. Cohan did his vaudeville act here in in 1901, the same year local girl Ethel Barrymore debuted in Captain Jinks of the Horse Marines. Cohan would return to the Walnut in 1904 to sing "I'm a Yankee Doodle Dandy" and "Give My Regards to Broadway" in his musical, Little Johnny Jones.

Let's not forget Orson Welles, who demanded that programs be withheld until the second act of his Walnut Street Theatre adaption of Richard Wright's Native Son, so that the audience wouldn't be distracted by rustling pages.

Authors Mr. Havard and Mr. Sylvester (who is also the theater's managing director) include photos of more recent productions featuring local actors Jeff Coon and Scott Greer. I wish they would have added a picture of Laurie Beechman, the beloved, Philadelphia-born, South Jersey-raised actress who starred at the Walnut in 1988 in Joseph and the Amazing Technicolor Dreamcoat and went on to star in Broadway and touring productions of Cats and Les Miserables. Ms. Beecham died of ovarian cancer in 1998.

The authors aren't afraid to mention some embarrassing moments, such as the televised debate between President Gerald Ford and then-Georgia Gov. Jimmy Carter, when the sound died for nearly a half an hour.

This said, the historical glance backward the authors provide is more than just a trip down memory lane. Philadelphia is currenly enjoying an incredible resurgence in theater, with well over 100 companies performing in numerous venues throughout the region. The consistency and quality of the Walnut's productions is a major reason that the audience for theater in Philadelphia remains so dedicated, varied, generous and strong.

For that alone, the authors deserve a curtain call.