Join Us for the 2012-2013 Independence Studio on 3 Season
Intimate Stories in an Intimate Space!
2012-2013 Independence Studio Subscriptions are SOLD OUT!
Purchase tickets for individual shows here!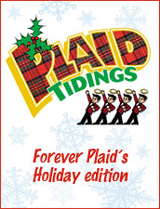 You'll be dreaming of a "Plaid" Christmas this holiday season… with the boys from Forever Plaid!
Plaid Tidings
By Stuart Ross
November 20 – December 30
Forever Plaid,
your favorite heavenly boy group, brings us
Plaid Tidings
... just in time for the holidays! Frankie, Sparky, Jinx and Smudge return to the Walnut where they once wove the magic of the 50s and 60s into the hearts of everyone. Rosemary Clooney has encouraged the boys to return to Earth this year, to make things right in the world. So stuff your stockings with 1950s tunes and Holiday gems like "Let It Snow" and "Have Yourself a Merry Little Christmas." It's musical fun with a big plaid Christmas bow on top!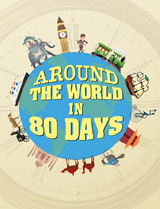 You're in for madcap fun when you travel Around the World in 80 Days!
Around the World in 80 Days
By Jules Verne · Adapted by Mark Brown
January 15 – February 3
Pack your bags for a trip
Around the World in 80 Days
. London. 1872. Phileas Fogg believes that, with modern transportation, it's now possible to travel around the world in 80 days. Impossible! It's a whirlwind journey filled with exotic locales, daring adventures, narrow escapes and great fun. Beware! There's villainy, secret plots, a damsel in distress and narrow escapes that will keep you guessing. Jules Verne's masterpiece will keep you on the edge of your seat—at least until you begin to roll in the aisle with laughter.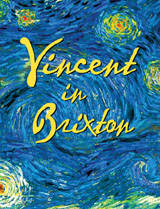 This Olivier Award-winning Best Play is an 'art'ful study of the nurturing of genius and insanity!
Vincent in Brixton
By Nicholas Wright
February 19 – March 10
Based on actual events, when a young Vincent Van Gogh arrives in Brixton, England, he falls in love with a beautiful young woman carrying a cup of tea. Her mother has a room for rent. Vincent's journey of self discovery begins as the artist finds inspiration from his landlady, her daughter and a fellow boarder, a struggling artist who sees beauty in every day objects. This is a house full of secrets and as Van Gogh begins to see things in new ways, his destructive nature takes hold.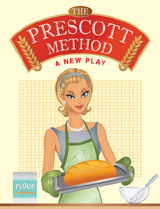 This World Premiere play celebrates the baking of bread and building of friendships!
The Prescott Method:
Easy Steps to Perfect Bread Baking, Every Time
By Michael Whistler
March 26 – April 14
It's 1966, and Veronica DiGregorio wants Peg Merwood to teach her how to bake bread, using the special flair of
The Prescott Method
. The women meet regularly, break bread and take time to escape from their daily rituals. Peg, the wife of a college professor, is working hard to fit into her new university setting. Veronica, a mother of six, longs for a little quiet time. As they bake bread, they discover that the best ingredients for coping with the lives they have chosen are friendship, conversation and trust.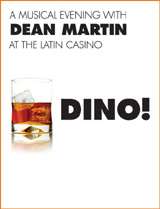 This World Premiere is a musical event that's filled with "amore!"
DINO! An Evening with Dean Martin at the Latin Casino
A new play with music by Armen Pandola
April 30 – June 23
We begin 1978 with tickets to Dean Martin at the Latin Casino! When a severe blizzard blankets the East Coast, Dino's band gets stuck out of town. Rather than disappoint his fans, Dean Martin brings us an intimate evening filled with personal stories and classic songs including, "Ain't That A Kick In The Head," "Everybody Loves Somebody," "That's Amore" and more. For a short while, the man behind the legend reveals the humor, warmth and casual cool that marked his rise from his Italian-only speaking immigrant childhood to become one of the biggest legends in entertainment.
All shows are subject to change. No refunds or exchanges. Orders are processed in the order they are received. Ticket price includes a $2.50 Historic Facility Fee per show.