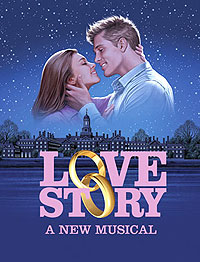 You'll fall in love with the American premiere of this new musical based on the classic story!
Love Story, The Musical
By Erich Segal
Book and Lyrics by Stephen Clark
Music and Additional Lyrics by Howard Goodall
NOW – October 21, 2012
Now seating subscribers!
buy now   buy premium seats

Inspired by Erich Segal's best-selling iconic novel, and one of the most romantic films of all time, this life-affirming musical will have you remembering the first time you fell in love. There was music in the air — and a feeling so powerful that no one and nothing could take it away. That music is in the air again with LOVE STORY, the musical. When Oliver Barrett IV wanders into a library in search of a book, he discovers Jenny Cavilleri. They came from different worlds. He was a Harvard man, she was Radcliffe. He was rich, she was poor. But they fell in love. This is their story. A celebration of love and life, LOVE STORY, the musical will win your heart... and it may just break it.
Production photos by Mark Garvin | click to enlarge