Walnut Street Theatre on Tour
Spring 2015 Tour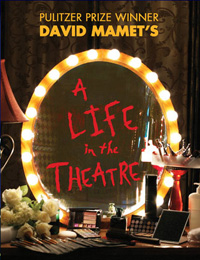 A Life in the Theatre
By David Mamet
Audiences love Pulitzer Prize-winner David Mamet's loving and laugh-filled look at the state of the arts. The title says it all! It's A Life in the Theatre.
A behind-the-scenes peek at the challenge of actors battling to share both a dressing room and the spotlight, A Life in the Theatre follows two actors in a repertory company: Robert, an older experienced performer and John, a newcomer to the stage.
John at first welcomes Robert's guidance, but soon overshadows his mentor. From rehearsals to reprisals, from ego trips to acting tips, the play gives a glimpse into the complex relationship that develops as the torch is passed from one generation to the next – a passing that wavers from love and mutual respect to impatience and resentment.
David Mamet is the award–winning author of some of the most important plays of our time, including American Buffalo, Glengarry Glen Ross, Oleanna, and Speed-the-Plow. He was inspired to write A Life in the Theatre by his own experiences backstage as an actor. The New Yorker declared, "Mr. Mamet has written—in gentle ridicule; in jokes, broad and tiny; and in comedy, high and low—a love letter to the theatre. It is quite a feat, and he has pulled it off."
"This is the show to see! I was enthralled." – The Wall Street Journal
"Laugh out loud funny!" – NY-1 News
A Life in the Theatre is a delightful theatrical experience for anyone who loves the world of Broadway.
To inquire about booking A Life in the Theatre, please visit www.baylinartists.com.
721 Hyde Park
Doylestown, PA 18902
phone 267-880-37590 · fax 267-880-3757
For information on the Walnut's Educational Touring Outreach Company, visit our Touring Outreach page.