Production History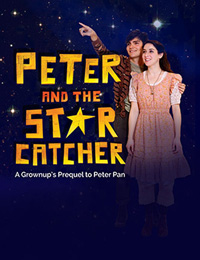 "The most exhilarating Broadway storytelling in decades!"
Peter and the Starcatcher
A Play by Rick Elice · Based on the Novel by Dave Barry and Ridley Pearson · Music by Wayne Barker
2015-2016 Season
Mainstage Production History
Tickets: $20 - $85 · Running Time: 2 hours and 30 minutes
PETER AND THE STARCATCHER is a grownup's prequel to Peter Pan. When starcatcher-in-training Molly meets an orphan boy longing for a home, they embark on the adventure of a lifetime. You'll be whisked away on a breathtaking quest to answer the question: how did a boy named Peter become the boy who never grew up? PETER AND THE STARCATCHER takes a hilarious romp through the Neverland you never knew. In this Tony Award-winning play with music, a dozen brilliant actors play more than 100 unforgettable characters using their enormous talent, ingenious stagecraft and the limitless possibilities of imagination. This swashbuckling production will have you hooked from the moment you let your imagination take flight!
Download the Study Guide:
Video Highlights
Mark Garvin · Click to Enlarge