Tour America's Oldest Theatre!
Join us center stage (and backstage!) for a piece of theatre history.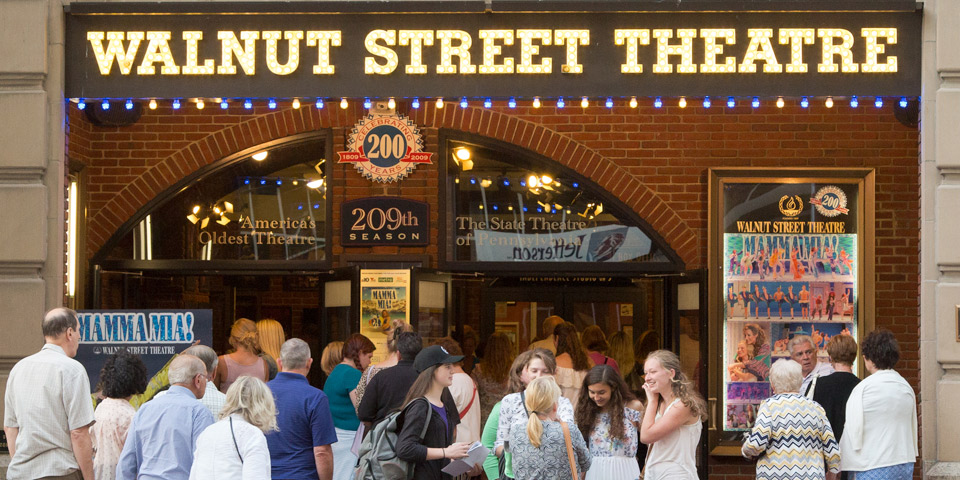 Join us for an exclusive tour of America's Oldest Theatre.
A National Historic Landmark, the Walnut Street Theatre is the country's oldest theater. While it began as an equestrian circus in 1809, the Walnut Street Theatre was soon setting theatrical trends: installing the nation's first gas footlights (1837) and air conditioning with "Mr. Barry's Patent Cool Air Machine" (1855). Once owned by the great classical actor Edwin Booth (John Wilkes' brother), Walnut's legacy is preserved in the lobby's excellent—and extensive—display of hundreds of photos and memorabilia. Some of the world's most famous performers have played here, including Marlon Brando, Paul Robeson, Audrey Hepburn, Helen Hayes, Groucho Marx, Sidney Poitier, and many others. With its centuries-old bricks attractively exposed in places, today's theatergoers can actually touch the venue's history.
Learn more about the great stars that made Walnut Street Theatre their home with our behind the scenes tour. You'll hear about the riots in New York, where Americans fought over who was the world's greatest Shakespearean actor—we, of course, are certain it was Philadelphia's own Edwin Forrest. You'll discover who was the first actor to take a curtain call, and what happened to the skull of Pop Reed! There are so many dramatic stories to tell, and you'll hear and see them only at the Walnut.
You get a behind-the-scenes look at how we put our shows together, using the best talent from Philadelphia, New York, and beyond. And you will have an opportunity to stand on the same stage that hosted so many stars (and even a presidential debate!*).
Don't miss your chance to go behind the scenes at America's Oldest Theatre. Tours are limited to just 30 patrons, so booking in advance is recommended.
Schedule

October 2023
Sun
Mon
Tue
Wed
Thu
Fri
Sat

1

 
 

2

 
 

3

 
 

4

 
 

5

 
 

6

 
 

7

 
 

8

 
 

9

 
 

10

 
 

11

 
 

12

 
 

13

 
 

14

 
 

15

 
 

16

 
 

17

 
 

18

 
 

19

 
 

20

 
 

21

 
 

22

 
 

23

 
 

24

 
 

25

 
 

26

 
 

27

12:30 pm

28

 
 

29

 
 

30

 
 

31

 
 
 
 
 
November 2023
Sun
Mon
Tue
Wed
Thu
Fri
Sat
 
 
 

1

 
 

2

 
 

3

 
 

4

 
 

5

 
 

6

 
 

7

 
 

8

 
 

9

 
 

10

 
 

11

 
 

12

 
 

13

 
 

14

 
 

15

 
 

16

 
 

17

 
 

18

 
 

19

 
 

20

 
 

21

 
 

22

 
 

23

 
 

24

 
 

25

 
 

26

 
 

27

 
 

28

 
 

29

 
 

30

 
 
 
 
 
December 2023
Sun
Mon
Tue
Wed
Thu
Fri
Sat
 
 
 

1

 
 

2

 
 

3

 
 

4

 
 

5

 
 

6

 
 

7

 
 

8

 
 

9

 
 

10

 
 

11

 
 

12

 
 

13

 
 

14

 
 

15

 
 

16

 
 

17

 
 

18

 
 

19

 
 

20

 
 

21

 
 

22

12:30 pm

23

 
 

24

 
 

25

 
 

26

 
 

27

 
 

28

 
 

29

 
 

30

 
 

31

 
 
 
 
 
January 2024
Sun
Mon
Tue
Wed
Thu
Fri
Sat
 
 
 

1

 
 

2

 
 

3

 
 

4

 
 

5

 
 

6

 
 

7

 
 

8

 
 

9

 
 

10

 
 

11

 
 

12

 
 

13

 
 

14

 
 

15

 
 

16

 
 

17

 
 

18

 
 

19

 
 

20

 
 

21

 
 

22

 
 

23

 
 

24

 
 

25

 
 

26

 
 

27

 
 

28

 
 

29

 
 

30

 
 

31

 
 
 
 
 
February 2024
Sun
Mon
Tue
Wed
Thu
Fri
Sat
 
 
 

1

 
 

2

 
 

3

 
 

4

 
 

5

 
 

6

 
 

7

 
 

8

 
 

9

 
 

10

 
 

11

 
 

12

 
 

13

 
 

14

 
 

15

 
 

16

 
 

17

 
 

18

 
 

19

 
 

20

 
 

21

 
 

22

 
 

23

12:30 pm

24

 
 

25

 
 

26

 
 

27

 
 

28

 
 

29

 
 
 
 
 
March 2024
Sun
Mon
Tue
Wed
Thu
Fri
Sat
 
 
 

1

 
 

2

 
 

3

 
 

4

 
 

5

 
 

6

 
 

7

 
 

8

 
 

9

 
 

10

 
 

11

 
 

12

 
 

13

 
 

14

 
 

15

 
 

16

 
 

17

 
 

18

 
 

19

 
 

20

 
 

21

 
 

22

 
 

23

 
 

24

 
 

25

 
 

26

 
 

27

 
 

28

 
 

29

 
 

30

 
 

31

 
 
 
 
 
April 2024
Sun
Mon
Tue
Wed
Thu
Fri
Sat
 
 
 

1

 
 

2

 
 

3

 
 

4

 
 

5

 
 

6

 
 

7

 
 

8

 
 

9

 
 

10

 
 

11

 
 

12

 
 

13

 
 

14

 
 

15

 
 

16

 
 

17

 
 

18

 
 

19

 
 

20

 
 

21

 
 

22

 
 

23

 
 

24

 
 

25

 
 

26

12:30 pm

27

 
 

28

 
 

29

 
 

30